At 100 square feet, the
Eureka Copper Canyon

has more practical floor space than the typical dome style tent.
As a  cabin tent style, it is designed to shelter four to five persons, with room to spare.
It would suit a small family group or two couples.
This tent is easy to set up, making  it ideal for the inexperienced, or first-time camper.
As a cut-down version of the huge family tents, it's easier to handle too.
It only weighs just over 23 pounds.
This popular Eureka Tent has a neat 10-foot by 10-foot configuration.
With a 7-foot centre height,  even a basketballer would be comfortable moving around inside.
The Eureka Copper Canyon has many more features geared for a comfortable camping trip.
A big side-opening D-shaped door for easy access.
Zipper covers for better weather-proofing.
Four large zippered windows.
Windows open for excellent visibility and ventilation.
Windows close for maximum privacy.
Mesh screens to keep out the smallest insects.
A handy sweep-out point for easy housekeeping.
I have omitted costs because places like Amazon constantly review their prices to ensure you get the best possible deal. Just click the Amazon button to get the latest low price.
Don't forget to check out their free delivery and returns policy.
We have paraphrased some reviews from happy owners of the Eureka Copper Canyon 10.
This was my first experience with the Eureka Tent brand and I was duly impressed.

I found the Eureka Copper Canyon very solid and  well engineered, with little to no movement in gusty winds up to 15 and 20 mph.

The tent has very heavy duty poles and the zippers work well

it was easy to set up and take down, and fits easily in its carry bag.

Being 6'2″, I was impressed with the height of the ceiling.

I was able to stand straight with room to spare, and not only in the center of the tent.

The only disappointing part in the description was where it said "A fly with clear-panel skylights permits stargazing".

There are two very small "clear" panels in the fly that are very blurry.

But, with the fly removed, nearly the whole top of the tent is screened, proving a very good view of the sky.

I would recommend this tent for both serious and casual campers.

–  Todd Johnson, California.
The Eureka Copper Canyon is easy to set up, has quality components and won't break your bank.

This tent is too heavy to be used for backpacking.

We use it in the Adirondack Mountains where it is woodsy and remote.

If you prefer sleeping on a cot instead of the ground, this is the perfect tent for that.

We put silicon on it and seam sealer on the seams (we do with all our tents), and stayed dry and warm.

The Copper Canyon 10  is large enough for 4 or so, but if you're cot campers, stick with three people and your gear for greater comfort.

This tent is perfect for the three-seasons camper.

The semi-straight walls will catch the wind, so be prepared.

Use caution when using a cot on soft ground, or you could damage the floor.

Otherwise, happy camping!

– Robert R. Goulet, New York.
I purchased the Eureka Copper Canyon 10 tent for mostly summer camping trips with my girlfriend.

I've used it 3 times so far and am thrilled with it.

It sets up in about 10 minutes with two people.

The tent easily fits our queen air mattress with room for bags.

It rained heavily 2 days in a row and the Copper Canyon 10 stayed completely dry inside.

Features like the power port, large windows on all four walls, and bathtub floors show that it was designed with care.

I would recommend it 100%.

B. Seedor, PA.
To read the original reviews and more, just click here.
A feature of  the Copper Canyon  is a bathtub style floor that wraps up the sides of the tent.
This keeps the seams clear of the ground and stops water getting in.
Heavy duty zippers are covered for extra protection against the weather.
The rainfly features clear-panel skylights and provides brims over the front and rear windows.
A special port allows allows an extention cord into the tent without compromising your comfort.
The windows are designed for maximum flexibility.
Four generous sized windows allow for all-round visibility, and are meshed to keep out the bugs.
If privacy is your priority, the windows are all zippered and can be easily closed.
The Eureka Copper Canyon is very well ventilated because the four windows give you control, whichever direction the breezes shift.
Despite the straight sides, this tent will remain well anchored in windy conditions.
The vertical side of this cabin target present a target for the wind, but no need to worry.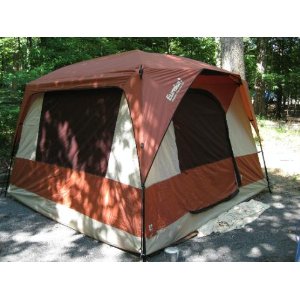 Included in the package are six steel and fibreglass poles that fit into sleeves during the set-up process.
These are bolstered by frame clips and ring-and-pin assemblies.
Nickel sliders and durable zippers also ensure years of trouble-free camping.
A small downside: for some campers is that the floor of this tent might not be tough enough to stand up to the use of camping furniture such as cots.
If this is a concern, especially if setting up on stony ground, the purchase of a suitably sized tarp to place under the floor, will provide peace of mind.
A common complaint is that the tent pegs, or stakes, that come with this tent, are not up to scratch.
Again, if  in doubt, this is easily fixed by buying some extra steel stakes, which are pretty inexpensive anyway.
On the upside: nobody should have a problem in setting up the Eureka Copper Canyon.
Just remember these tips: when setting up and taking down the tent, the stakes should be the first and last thing installed and removed.
If you take the stakes out before the poles, you might end up chasing the tent through the camping ground if  the breeze picked up.
Also, always use the guy lines, which are a necessity with this shape of tent.
Tagged with: cabin tent • easy set-up • easy to set up • Eureka tent • Eureka! Copper Canyon 10 • Eureka! Tents • family tent
Filed under: Eureka! Tents
Like this post? Subscribe to my RSS feed and get loads more!