So, if you are looking for a reliable 3 season trail tent at a budget, it is a top pick.
This tent is designed for the trail and for camping off the beaten track, where portability is a major factor.
Whether you are a backpacker, car camper, biker or canoer, you will appreciate this compact package.
It is free-standing and easy to set up, and a dependable dry shelter in spring, summer and fall.
The people at Eureka!® have stood the test of time.
Below is an excerp from the company's story
Though the exact year is unknown, Eureka!'s long history begins prior to 1895, in Binghamton, NY, where the company still resides today. Then known as the Eureka! Tent & Awning Company, its first wares were canvas products–most notably, Conestoga wagon covers and horse blankets for nineteenth century American frontiersmen– as well as American flags, store awnings, and, of course, camping tents.
Because it's sturdy and lightweight. It sleeps two, and has a 3 season rating, so you can use it for most of the year.
There are two large D-shaped doors, one on each side, which makes your entry and exit a breeze.
The doors have their own meshed windows, for even better ventilation when needed.
It's easy to put up and packs up into a compact size when you are ready to move on.
A full cover tent fly lets you sleep well, confident that you are sheltered from the rain.
The bathtub floor design means that the seams are kept taught and off the ground for added protection.
Mesh panels in the ceiling contribute to good ventilation.
Interior side and corner pockets make it easier to keep tabs on those smaller items.
For the current price and details about free shipping,
just click that Amazon button on the right.
Or click here to read what previous buyers have had to say.
The basic facts and figures:
Area: 36.5 square feet.
Floor space: 7 ft., 5 ins.,by 4 ft., 11 ins.
Center height: 43,5 ins.
Pack size: 6 ins. by 18.5 ins.
Weight: 5 lbs., 12 ozs.
Additional features:
Full cover tent fly equates to vestibules on two sides, therefore extra undercover shelter for backpacks and boots.
Generous mesh design makes for great ventilation while keeping warm or cool when required.
A poke out vent in the sidewall makes the ventilation even more reliable.
Non-mesh walls are waterproof, while the tough double-coated :StormShield" polyester fly counters the exposure of the meshed sections.
The two-pole system and sturdy shock-corded fibreglass frame is easily erected.
Set up is made simple by the ring and pin attachments, pole sleeve system and color-coded webbing.
Twin track zippers mean you can operate the window in the door seperately.
External guy points on the rain fly secure your tent during windy conditions.
Two mesh gear pockets help keep you organized.
Efficient bag included for included for tent, pole and stakes.
My general recommendation remains that a 2 person tent functions best when used by solo campers with the leftover space for stowing gear out of the elements, or when camping with your dog.
However, this Eureka backpacking tent is quite adequate for a pair of campers if bedding is restricted to laying out your sleeping bags on sleeping pads.
There is room for a double mattress, but you would want to be on pretty good terms with your partner.
This applies particularly in wet weather when it is important to keep from brushing the inside walls of the tent with your sleeping bag, and drawing in the moisture.
But if you are car camping, and don't need to stow equipment in the tent, by all means blow up the double mattress.
If you are about family camping and prefer the durability and room of a big shelter such as a Kodiak canvas tent, a 2 person tent is great to use as an annexe for a couple of children.
It makes for more room in the family tent while camping with kids, and gives them that added sense of adventure.
Two doors make the difference if you are sharing
The doors are both on the wide sides of the tent which makes it even easier to get in or out.
No need to crawl over your partner during entry or exit.
Someone with a weak bladder might have to make a couple of trips outdoors during the evening.
You might like to have an early night while someone else prefers to stay by the campfire a little longer.
A seperate entrance prevents a knee in the ribs, or someone falling on you while trying to get into the tent.
Or if you are a dedicated solo backpacker, a single door, 2 person tent might make more appeal.
No need to worry if you are tall
Someone of above average height, around 6ft., 3 ins., or more, will have space to spare at head and foot.
For shorter campers, a common grumble is that it is difficult, from inside, to reach the zipper on the closed vestibule.
The main inconvenience in this situation comes during wet weather.
If you are not careful while stretching out, or hunched in the vestibule area, you could come into contact with the fly material and get wet.
But it is only a minor irritation. You need to stretch because the vestibules are of a generous size and very handy for keeping gear out of the weather.
Putting a tarp down on the ground in the vestibule would enable you to avoid damp ground and better for your hands and knees to stretch out for that elusive zipper.
An easy set up tent, even if you are a beginner
I would always advise campers to set up their new tent at home before venturing out.
This applies even to experienced outdoors types.
Each product has slight differences which are best discovered when in a relaxed setting.
Thanks to modern design, Eureka does not have exclusive claim to be easy to set up.
But its up there with the latest  simple to erect tents.
No awkward threading of poles through sleeves.
Allow about 15 minutes or so for your first try, and eventually the whole process should not take much longer than about five minutes.
A couple of tips to get the most out of your new 2 person tent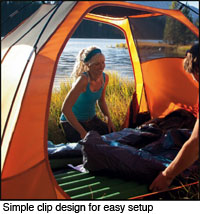 Ensure you properly stake out the rainfly so that it does not touch the walls of the tent.
This will maximise your ability to remain dry, even during a strong downpour.
The floor in any tent is a vulnerable point, subject to puncturing by sharp stones or protruding tree roots.
I would recommend spending a little extra for the dedicated footprint for the Eureka Apex 2XT.
If short on cash, a cheap poly tarp placed under the floor, is a good substitute, and will also prolong the life of your trail tent.
After your camping trip, set up the tent at home to air and dry before packing. Follow basic tent maintenance procedures and clean off dirt and bird droppings from the tent and fly material.
The 3 season rating of the Eureka Apex 2XT 2 person backpacking tent gives you plenty of scope as to when, and where to take your camping trip. Simply click this link for current reduced price and shipping details.
Tagged with: 2 person tent • backpacking tent • budget tent • Eureka Apex 2XT • hiking tent • trail tent
Filed under: Two Person Tents
Like this post? Subscribe to my RSS feed and get loads more!