A list of camping ideas for kids to help them enjoy their first real contact with nature
The first obstacle to tackle when taking children camping for the first time, is to keep them occupied while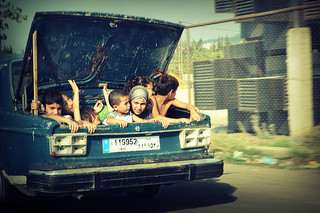 still on the road.
A family camping trip often involves many hours travelling before the outdoor adventure begins.
It is difficult to keep even the most well behaved child sitting still in a confined space for long periods.
They will become restless as boredom sets in, and irritable if left to get too hungry. The crankiness will soon spread to the rest of the family, unless you take the time to plan ahead.
Image by Joe Fakih Gomez at Flickr
Tips for keeping kids happy during the journey.
Pack dedicated travel bags: Arrange a travel bag suited to each individual child. Very young children are comforted by the presence of familiar possessions. These could include a favorite stuffed animal, like a cherished teddy bear. For some children, it might be a favorite blanket. Items such as these might be all you need to stop the kids from fretting when away from familiar suroundings for the first time.
To avoid grumbling induced by empty tummies, pack snacks and drinks in spill proof containers. This will keep them content until you decide when to stop for a proper meal break.
Take some activity books: You can buy cheap portable trays, suitable for small laps, which can act as the child's personal space. These trays can function as tables for snacking or as play stations when travelling. Bring some coloring books or writing pads for writing and drawing. Don't forget the colored pens and pencils.
All these items are pretty cheap to buy. In fact buying them for the trip is better than bringing them from home. The kids will be excited to receive these new items and eager to make use of them.
Buy toys and games designed for travelling: It's much easier to avoid crying or nagging by making it harder for the kids to drop items on the car floor. They are hard to retrieve in a packed vehicle while on the road.There are many specialised travel toys and activity aids available for travelling. Drawing books might have pencils attached on a string, while games and puzzles come with magnetic pieces.
By ensuring your kids have their things within reach, they are often kept amused for extended periods, and wont be asking "are we there yet?" more than at tolerable levels.
See the convenience of a simple, cheap, car back seat organizer. To check one out, just click here.
Take some cheap cameras: Kids love to take pictures and there are a variety of disposable or inexpensive digital cameras on the market. Keep it simple, so that breakage or accidental drink spills don't become an issue. Encourage them to take pictures of anything new they see in nature. They can start during breaks in the car journey. Once you have arrived at your family camping destination, let the kids show you their results.
Pack some electronic entertainment: No need to rough it on your first family camping venture. Both older and the very young children are accustomed to electronics these days. So pack the portable DVD player by all means (remember to include headphones for your own peace and quiet). Music players and handheld gaming systems also provide great entertainment. They don't take up much room either.
If you decide on the electronics, a big mistake would be to forget to include extra batteries or car chargers.
Keeping children happy while travelling is not difficult, as long as you take a little time to plan ahead. Kids love to be active, so don't be tempted to make an express trip right to the campsite. Take the time to visit scenic sites on the way and take some pictures with those cameras. There are often roadside signs pointing to memorials or scenic photo opportunities.
Frequent stops can pay didvidends for adults. Think a little from your child's perspective. Stopping at interesting spots along the road breaks the monotony of travel by car. Each stop could provide the opportunity to learn something new and give you something to discuss with the kids.
Don't forget the family dog: Kids love to have their pets along, and the dogs want to be part of any family action. Get some advice on taking your dog camping at www.tentreviewshq.org/camping-with-dogs.
Some kids camping tips once the tent is set up.
Try some practice camping: It makes sense to set up your new family camping tent in the backyard. That way you know that all the components are present. Modern tents are designed for easy set up. But if you are new to camping, it pays to be familiar with the process to avoid fumbling about at the campsite.
Let the older kids camp out in the yard with you overnight to get familiar with sleeping outdoors. Encourage them to help out with setting up and dismantling the tent.
I would encourage toddlers to enjoy their first kids camping experience with an indoors practice run. Set up camp in a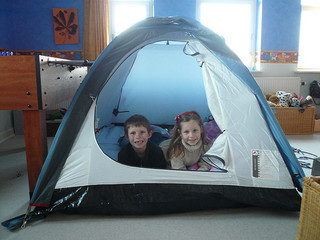 suitable room. You could use some clothes pegs, string and old sheets or blankets draped over a table. They will think it is great fun. A lot of kids will want to sleep over in their home-built camps. It givesthem an idea what a camping trip is all about, and lessens the fear of being outdoors overnight for the first time.
To find some cute pop up tents to buy for that practice run at camping,  just click here.
Comfortable camping for kids: The first night at a camping site is a big step up from Indoor camping or a night in the backyard. Lack of preparation can turn the initial experience into a disaster.
Image by Lars Ploughman at Flickr
Assuming you have followed all guidelines on setting up camp, allowing for suitable bedding in keeping with the prevailing weather, is the key to family harmony. No matter how pleasant the day temperature, night's can be uncomfortably chilly for the very young.
Don't scrimp on children's sleeping bags: They might be cheap and look colorful, decorated with cartoon characters, but they are best suited for indoor sleepovers. Quality sleeping bags will have a form of temperature rating. Check the label and read reviews.
Some good advice for the young and old is to wear something on your head when in your sleeping bag at night. This helps greatly to avoid body heat loss. Discourage kids from putting their heads down in the bag because the resultant condensation could create dampness and discomfort.
Having an extra barrier between the sleeping bag and the tent floor is well advised. There is a big range of sleeping support available to enhance everyone's comfort. If sharing sleeping space with an infant, an air mattress would be a good choice. Foam pads are suitable for most other situations.
Nights also can be hot: Ensure that you are fully aware of your tent's allowance for ventilation. See that the vents are left open on warm nights. Leave sufficient vents open even on cooler nights to avoid condensation building up on the tent roof and walls and cause annoying water droplets.
Make sure to use your tent's rain fly, even in clear weather. A dewy night or fog can also contribute to water dripping inside.
Allowing for a suitable sized family camping tent is a must to ensure your comfort. Always choose one that is larger than the one supposedly suitable for the number in your group.
Clean kids sleep better: If showers or faucets are not handy at your campsite, ensure that a pot of boiled water is at hand to wipe down grubby faces and sweaty feet. You could bring your own water for safe drinking.
Scary night sounds: Once the lights are out and chatter has ceased, kids could become frightened by sounds in the dark. Remember, an owl sounds like a type of bird to adults, but could represent something sinister to the young imagination. It could be worthwhile investing in some simple earplugs.
Having a reliable torch or headlamp close by will bring quick relief to a frightened youngster.
Bring appropriate clothing and footwear: For hot weather dress kids in loose-fitting cotton clothing. Long sleeves and long pants provide extra protection from the sun. It will also help to keep insect bites and brushes with irritating plants to a minimum.
Autumn is arguably the ideal season for camping with kids. But you will need to have suitable clothing to rug up the kids during a cold snap and light drizzle. Fleece-lined jackets are suitable to maintain body heat and keep dry. Wool socks will ensure warm feet and happy children.
I would not recommend winter  for a child's first camping trip. However, if winter is the only time of year available to you, then extra care is needed when organising appropriate clothing.
Thermal underwear is a must to wear under waterproof pants, such as those designed for skiing. Hooded jackets, gloves and scarves complete the picture.
Camping ideas for kids when caught out by bad weather
It pays to be prepared when the weather forecaster gets it wrong. You might be caught unprepared for wet weather, even if you are camping in the hotter months.
Pack a poncho: Buy a handful of those handy disposable ponchos so you can still move about the camping ground if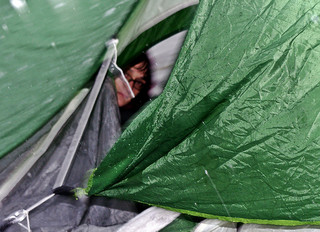 necessary. They are very cheap and take up little room.
Bring some cards: All those toys, electronic devices and coloring books which kept the kids amused during the drive will again come in handy if tent-bound by the weather.
But these amusements for the little ones can be augmented by things like decks of playing cards. But not just the regular kind. There are all sorts of card games available and kids love them, especially if the adults join in.
Image by David Shankbone at Flickr
Family games: Board games are an excellent form of entertainment for the whole family. You don't even need batteries. You're bound to have board games stashed away somewhere at home which you can take along camping.These games encourage interaction and assist with bonding among family and friends. It's a great way to reconnect.
Story books: Despite all the online and other technical distractions, most young kids still love to read, or listen to stories. Bring a collection of books suitable to the age group.
If stuck in the tent, keep the youngsters entertained with some gripping yarns. Back around the campfire, try a scary ghost story to get them to huddle in close. Maybe finish the night with a lighter yarn, something funny, or an adventure story.
Why camping for kids is a valuable experience
This long list of camping ideas for kidsmight seem like it is just too much bother to take the youngsters camping. But
it will be well worth the effort.
Kids will remember these early adventures in family camping for the rest of their lives. The effect on family unity will prove invaluable
That first real venture into the outdoors will foster a love and understanding of nature. Just be sure to encourage the kids to appreciate the surrounding trees, streams and animals around the campsite.
Take them for small hikes and let them handle things like pine cones, leaves, flowers and the like. All under supervision of course.
All this will give them a different perspective on the material things in life. Enjoyment of life wont depend on being online or parked in front of the television.
You don't need to turn them into rabid conservationists, but hopefully you will encourage your children to better understand why we need to treasure and conserve our dwindling wilderness.
At the very least, camping grounds are like little communities where the kids can learn to interact with other children and communicate in the old fashioned way. They could make new lifelong friends in the process.
For tips on how to go camping with the very young, click on the link and get advice about camping with toddlers or babies.
These camping ideas for kids are only some hints to get started. Feel free to add to the list and enjoy the great outdoors with your family.
Thanks to Flickr for the forest image
Tagged with: camping • camping for kids • camping ideas for kids • children camping • family camping • kids camping tips
Filed under: Camping Guide
Like this post? Subscribe to my RSS feed and get loads more!